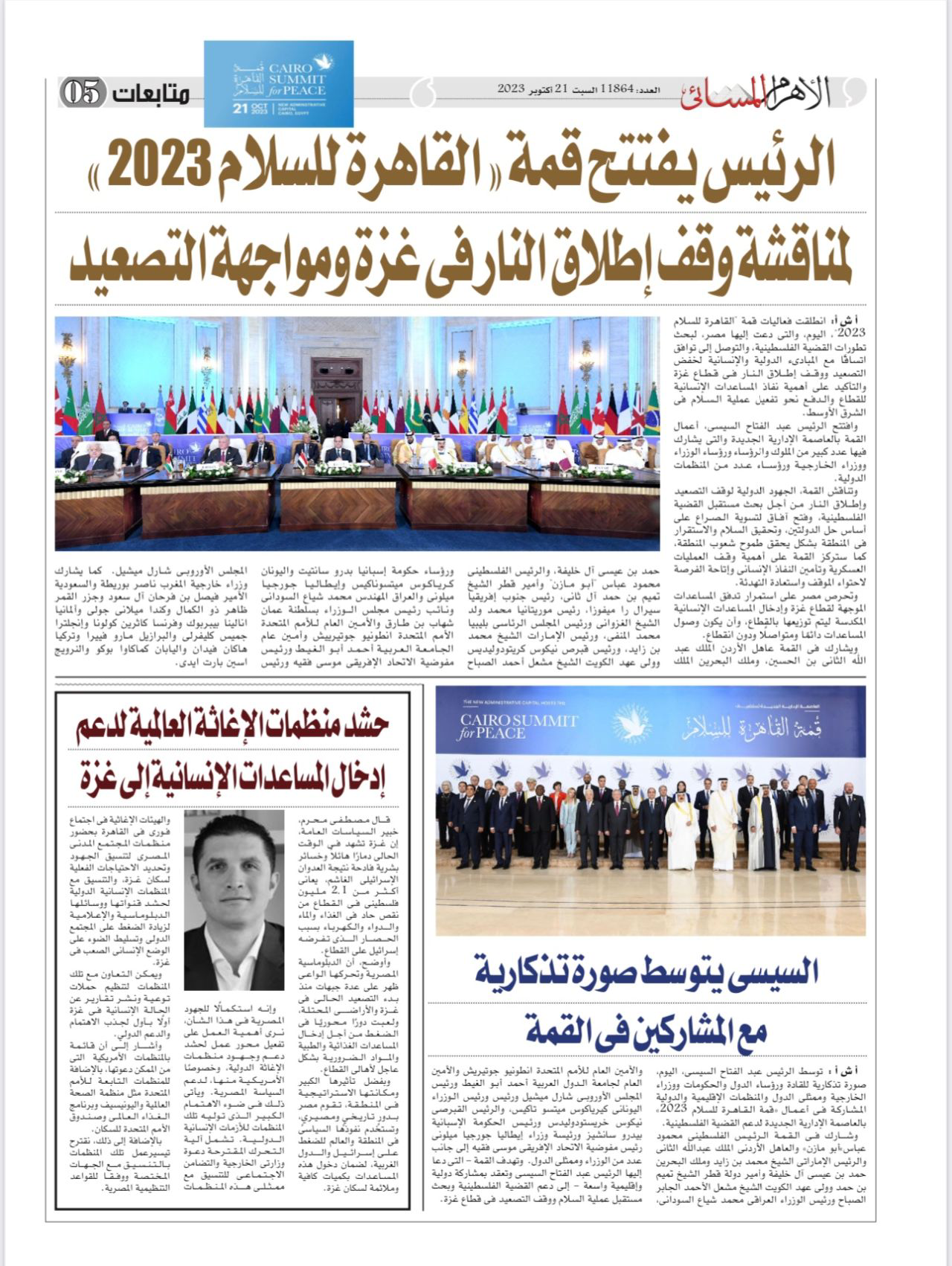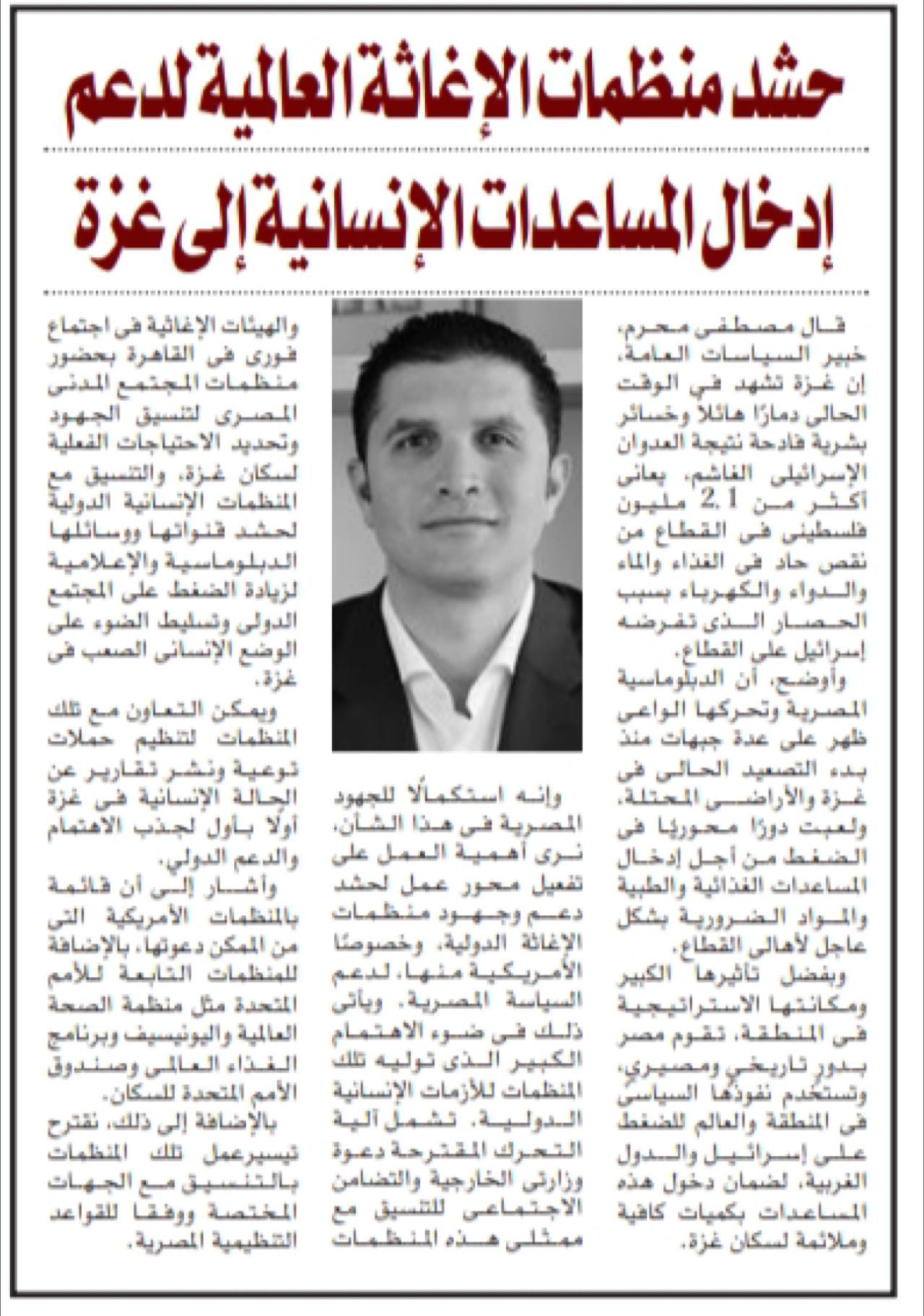 Moustafa Moharram, CEO and founder, Moharram & Partners + USEBC vice chairman: Each week, My Morning Routine looks at how a successful member of the community starts their day — and then throws in a couple of random business questions just for fun. Speaking to us this week is Moustafa Moharram (LinkedIn), CEO and founder of Moharram & Partners, as well as a vice chairman of the US-Egypt Business Council. Edited excerpts from our conversation:
I'm Moustafa Moharram and I'm the founder and CEO of Moharram & Partners and vice chairman of the US-Egypt Business Council. Put simply, our job at Moharram & Partners is to represent businesses before governments and strive to create a better policy environment for our clients and partners, so they can focus on what they do best, including growing and running their operations, launching exciting IPOs — and, of course, generating earnings. Moharram & Partners was also recently tapped as one of three vice chairmen of the US-Egypt Business Council (USEBC). In our new role, we look forward to forging new collaborative policy initiatives across different industries, paving the way to closer and stronger trade and foreign direct investment relationships between the US and Egypt.
In this part of the world, there are policies and regulations for everything under the sun, so if you're facing a crisis where a regulator is concerned, or there's a new piece of legislation that you've seen in Enterprise's Legislation Watch section that's affecting your business and you're wondering why you have to apply for a new license or pay new taxes, or if you need to sit with government officials to pitch a partnership proposition, we can help with all of that. We advise 50+ companies across 17+ sectors, including big names such as Microsoft, Google, Amazon, GlaxoSmithKline and Coca-Cola.
Public policy engagement allows governments to become better governments and businesses to become better corporate citizens. Sustainable development will never be achieved without corporates having a voice in policymaking, especially in a country like Egypt. Many policies are developed in isolation, away from businesses, which creates big issues for the business and investment climate. I'm very proud of our team — over the past seven years, we've built a unique team of 60+ professionals who are specialized in public policy and government engagement.
As the CEO, I'm in charge of developing engagement strategies and overseeing our operations across the Middle East & Africa region.
One of our biggest success stories is what we did with the Data Protection Act. We were able to launch, for the first time, a private-public dialogue on this critical piece of legislation that's important for the technology sector in Egypt but initially didn't meet international standards. We got major global tech firms at the same table as the CIT Ministry and legislators, where they were able to express their concerns — which were mainly that regulations in Egypt weren't the same as the ones applied elsewhere. These recommendations were picked up by the regulators and some amendments were introduced. Other than the benefits to the tech sector, this was an important step for the culture of participatory decision making in Egypt.
The return on investment from this shift can be seen in how the business environment has changed now. Many of these big companies have, since that constructive dialogue session, decided to expand their operations in Egypt or do new work here. Google began direct operations in Egypt shortly after, Amazon inaugurated a major fulfillment center, and Microsoft recently held a meeting with Prime Minister Moustafa Madbouly to discuss new potential investments.
My morning routine is as crazy as my job. I wake up every day hoping for the best and preparing for the worst. My alarm goes off at 9am and I take my phone off airplane mode. The minute I do that, I'm flooded with messages, reminders for calls, and missed calls from clients, CEOs, corporate policy directors, our office manager, as well as my VPs. As much as I would like to take the time to gradually kickstart my morning, I always find myself diving in head-first. As I always like to say, I'm engaged from Port Said to Washington DC, and from Casablanca to Islamabad. It's always morning somewhere [laughs].
Once I face that first wave of catching up, I'm able to take a few moments to clear my mind and think of how to approach different parts of the day. I enjoy my irreplaceable first coffee of the day — a double espresso — while reading (in this order) local, regional, and international news. I usually go for a light breakfast — think yogurt, fruits and granola. The only exception is when we have clients over in the morning, which is when we serve our signature breakfast: Fuul, taamia, and feteer.
I usually hit the gym later in the day, typically towards the end of my workday. I used to be very athletic in my previous life; now, things are becoming more challenging. But my two daughters and my wife sometimes try to talk me out of going to the gym so that I can spend more time with them.
My days end at different times, depending on what's going on. The firm is called Moharram & Partners, so Moharram has to be around when there's a crisis [laughs]. There are days when we finish at 4am. This job isn't for everyone — it requires dedication, but it's very rewarding in the end.
A big part of my day is centered on communication. It's very important for us to ensure proper communication between our partners and policy makers. Some of this communication entails keeping our clients informed about what's happening in the regulatory and policy landscape, but it also entails listening to their expectations on these matters and how they impact their businesses. Then, of course, there's communication with bureaucrats, policy makers, and anyone that has influence in that realm to help us convey our viewpoints.
Our overarching goal throughout the day is always to get things done — with integrity. This industry is relatively new to Egypt, so we hold ourselves to the highest standards of integrity, because we hold it in high regard.
I need to give credit to my office manager, Salma, for keeping me organized. She's very zen [laughs], but she also makes sure that all my reminders, goals, meetings, and to-do lists are always updated. We have a pipeline of our client work, complete with matrices that track their requests and the different things required toward a certain strategy. It's part of my daily routine to check these matrices and follow up with the teams and ensure that things are progressing. We rely a lot on Excel sheets, but also on WhatsApp groups we have with our clients, which are the easiest way to communicate updates and get feedback in real-time. I'm on every single WhatsApp group we have with our clients.
I listen to a lot of music to unwind. In recent years, I've gotten into classical Arabic music, from the likes of Mohamed Abdel Wahab, Fairuz and Umm Kulthum. I also try to read more novels because I'm a heavy consumer of news.
The last great show my wife and I watched was Westworld — and we're waiting for the next season. We also used to go to the cinema regularly before the pandemic. The last movie we watched in theaters was No Time to Die.
The best piece of advice I've gotten is from my late father, who was a medical doctor and a professor at Cairo University: No matter how serious your job is, enjoy life and don't take yourself too seriously.